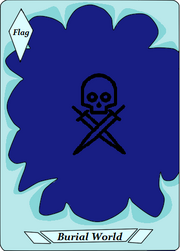 "Burial World" (ブリアルW Buriaru Wārudo) is one of the playable worlds in Future Card Buddyfight. It is themed mainly around demons, assassins and the element of ice. The card frame resembles icicles.
Playstyle
Burial World focus on a playstyle similar to Skull Warrior as they have high-power monsters that destroy themselves at the end of the turn, however they are also focused on reviving monsters from the drop zone using card effects, utilizing the drop zone and turning the player's field into an immortal army. A lot of the items in this world also have the ability to be a buddy.
Demon Mist Blade is an attribute that utilizes multiple items, constantly equipping from the drop zone to keep pressure on the opponent. They also have an impact which allows the player to attack with up to seven different swords.
Archetypes
Attributes
List of Burial World cards
Size 0
Size 1
Size 2
Size 3
Size 1
Trivia
Community content is available under
CC-BY-SA
unless otherwise noted.