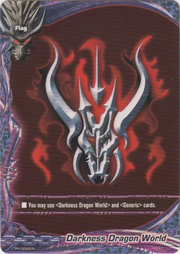 THESE CARDS ARE FANMADE AND ARE IN NO WAY OFFICIAL
"Darkness Dragon World" (ダークネスドラゴンW Dākunesudoragon Wārudo) is one of the playable worlds in Future Card Buddyfight. This world is themed mainly around dark creatures such as ghosts, demons, undead creatures, evil dragons, etc. The card frame is a darker, purple colored version of Dragon World's card frame. It is the antagonist deck of season 1.
Playstyle
Darkness Dragon World revolves around bypassing your opponent's defenses, and slowly lowering your opponent's life points. They also gain advantage by destroying monsters, including their own.
The Black Dragons have the ability "Spectral Strike", which deals damage to the opponent when they destroy an opponent's monster allowing them to take down their life and offensive simultaneously on the center, left or right positions. The monsters possess high Power, but their defense is low.
The Death Rulers have the ability "Shadow Dive", allowing them to be able to constantly attack the opponent directly, regardless of if a monster is present in the center area, creating an aggressive playstyle.
The Purgatory Knights revolve around destroying their own monsters to activate abilities. 
The Black Knights revolve around the player having an item equipped and gaining effects off it.
List of Darkness Dragon World cards
Impacts
Items
Spells
Monsters
Size 0
Size 1
Size 2
Size 3
Size 4
Impact Monsters
Size 2
Size 3
Size 4
Community content is available under
CC-BY-SA
unless otherwise noted.