"
All is One. One is All. I am God.
"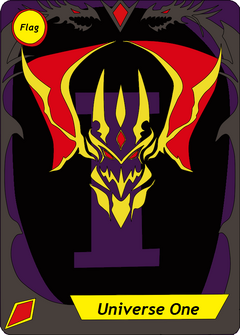 "High Dragon" (神竜 Shinryū) is an attribute. It is initially started as an attribute that could be used with all flags but with the release Universe One, the attribute will also be supported in multiple worlds.
See also, Liberator and Zoroaster.
Playstyle
High Dragons main playstyle is to avoid losing by normal means and manipulate the game to their will.
The initial support of High Dragons utilized the spell, Primal Reversion to not only stop the player from losing the game but to also call out the deck's finisher, Demiurge, Zoroaster.
Universe One further enforces this playstyle by having the user being unable to lose the game unless the flag is turned face-down, only allowing two different ways of beating the deck.
List of High Dragon cards
Size 3
Size 3
Other
Size 3
List of Support Cards
Size 0
Size 1
Size 2
Size 3
Other
Size 3
Community content is available under
CC-BY-SA
unless otherwise noted.