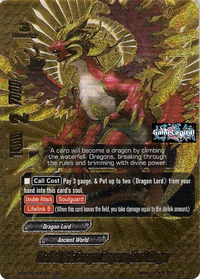 "Lifelink" (ライフリンク Raifurinku) is a Keyword which deals damage to the player when the card possessing it is removed from the field, or if it has "Lifelink Lose" (即死 Sokushi, "Instant Death"), the player automatically loses the game instead of taking any damage. It is normally given to monsters with higher than average stats and is most commonly seen in Ancient World monsters. The higher the Lifelink number, the stronger the monster is. And vice-versa.
Latest Reminder Text
Rulings
A few rule changes for [Lifelink] took place from Ver.106 to Ver. 107 of the Official Buddyfight Detailed Rules (Dec 14, 2015) . The latest updated rules state that:
[Counter]

can now be used against [Lifelink].
Cards can now have multiple

[

Lifelink

].