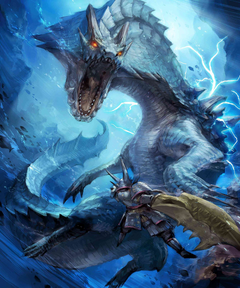 "Thunderbolt" (Sandāboruto) is a sub-attribute of Hundred Demons that focuses on big chunks of burn damage rather then small packets.
The deck user is Zubaku Fuchigami
Playstyle
Thunderbolt is based around "Thunder Mine" which will slowly burn away your opponent's life. However, you gain more advantages if you have another «Thunderbolt» card on your field. When your cards are destroyed, they are sent into your impact, which allows you to use Thunder Mines from its soul without it losing soul through battle like a monster would. This then culminates into using the buddy in order to double all damage you deal from card effects, effectively punishing the opponent for using anti-card effect protection.
List of Thunderbolt Cards
Monster
Size 1
Spells
Dungeon World
Spells
Monsters
Size 0
Size 2
Hero World
Katana World
Spells
Monsters
Size 1
Magic World
Monster
Size 0
Other
Impact
Monsters
Size 3
List of Support Cards
Monster
Size 1
Dungeon World
Spells
Monsters
Size 0
Size 2
Spells
Hero World
Katana World
Spells
Monsters
Size 1
Magic World
Monster
Size 0
Other
Impact
Size 3