Ahoy! The name's Davina, you can call me with any kind of name. I love Future Card Buddyfight and Sonic the Hedgehog Archie Comics. Sorry if I do something wrong to all of you. Friendly Ahoy! Anything to do? Aye-aye!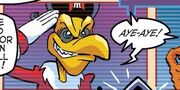 (My favorite things are Pirates, Dragons and Fire Elemental things or users)
All my favorite games, animes and comics and favorite characters and hated characters on it (in order)
-Future Card Buddyfight (Dragon of the Sun, Bal Dragon) hated: Gaito Kurouzu
-Sonic the Hedgehog Archie Comics (Bean the Dynamite and Sonic the Hedgehog) hated: Nobody!
-Love Live! Sunshine!! (You Watanabe) hated: Nobody!
-Love Live! School Idol Festival (Kotori Minami) hated: Reporter (holy shoot, she doesn't recognize Aqours's similarity with Muse!)
-Pokemon (Ash-Greninja) hated: Ratata (there's a lot's of em!)
-Assasination Classroom  (Nagisa Shiota) hated: Nobody, really. *thinks* ooooohhhhhhh,  Maehara!
-Gta V (Trevor Phillips) hated: Windmills in Wind Farm (they killed me when I'm parachuting!)
-Animal Kaiser (eh? Ummmm...... I think Death Scorch) hated: Axel (he's as white as a mime!)
-And others (I have too much so that it won't fit)
Talk about those, I don't really know about something that isn't in the list. Speak with me with Pirate (you knew I picked that), English and Indonesian language, I didn't know about other languages. Do not speak with bad languages!(or else ye will be a bilge rat, cap'n!)
Favorite Pirates! (Ye knew me'll add tis lingo, aigh?)
-Bean the Dynamite (I know he's isn't a true pirate but, look at him!)
-Battle Kukku XIV (he's a sky pirate!)
-Chloe Maxwell (in her swimsuit card!)
Oh yeah, about t'e Pirate Language, me still study'in and me sure that me'll be a mighty cap'n! In days b'fore t'e 19th September (International Talk Like Pirate Day) me gonna have some practice to pirate lingos!
Favorite Color (in order)
1. Any shades of Yellow (Dunno why, but I like Yellow since I was a kid)
2. Light Blue (There's many fascinating character with Light Blue eyes and/or Light Blue hair, just like Bean and Nagisa)

3. Any shades of Orange (because of this color I like Bal and Charizard!)
4. Light Red (Orange-ish Red)
5. Any shades of Green (Bean and Speedy!)
I'm a Shipper of......
-Beaneam (Bean x Cream) (So sweet!)
-YouKo (You x Riko) (*coughs coughs* isn't it already canon?)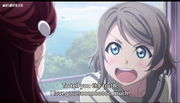 My friendship with Geobuddyfight100
We are good friends on the wikia and the Fanon wikia. He made a great Buddyfight version of me plus a deck of Sun Dragons which having a buddy of Dragon of the Sun, Bal Dragon, which is one of my favorite monster. Because of that, thank you Geo, I wish you could make yourself more better and better and make your Buddyfight El Drago project more better on the Fanon wikia.